Houngfuh customized more than 16,000 sets of flange type spiral chutes for logistics giants, focusing on the chute market demand to promote the development of the logistics industry
Since2011, Houngfuh, a global manufacturer focusing on automation technology and equipment,has customized more than 16,000 sets of spiral chutes for many logistics giants (major logistics centers). Due to the unique advantages of convenient transportation and installation, no energy consumption and no maintenance cost, spiral chutes have been widely used and approved in major logistics centers in Chinese mainland and Hong Kong. The spiral chutes are also exported to Dubai, South Korea, Italy, France, Denmark, India and other countries.
01
Excellent appearance,Good quality,High standard
Flange type spiral chutes meet increasing higher requirements
Facing the fierce competition in the market,users have increasing higher requirements for timely delivery, low energy consumption as well as good appearance of the equipment. As an important equipment in the logistics field, flange type spiral chutes step further in standardization, modularization and moulding.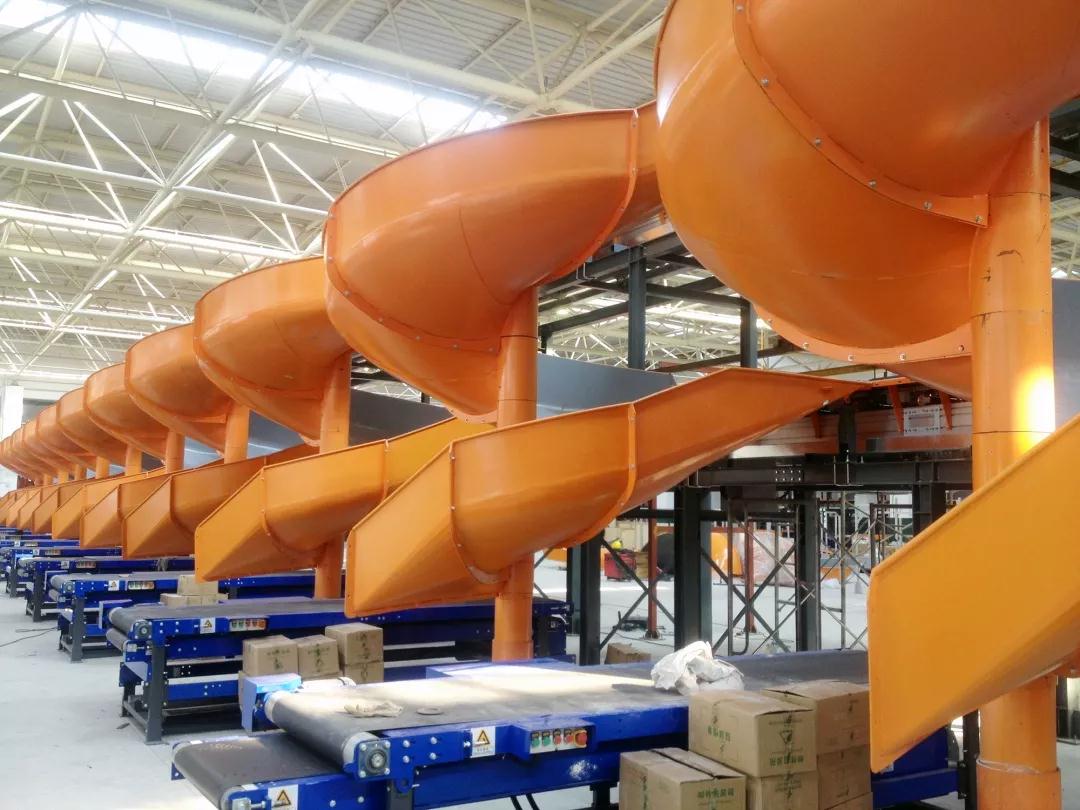 As a R&D pioneer in the field of automation technology, Houngfuh has focused on the R&D, design and production of automation technology and equipment for 35 years. Houngfuh devotes to provide a variety of customized plant automation equipment, conveying equipment, spraying equipment, lifting machinery, automatic warehousing, automatic sorting system, flange type spiral chutes and other equipment for domestic and foreign customers.
The flange type spiral chute, independently designed and developed by Foungfuh, has many advantages, such as high conveying efficiency, small space occupation, energy saving and environmental protection, no energy consumption, low cost in transportation, installation and maintenance. In addition, Houngfuh's spiral chutes are in different types and multifunctional, favored by customers at home and abroad.
02
Applied in projects in Italy, Germany and Denmark
Houngfuh masters the core technology of spiral chute
Houngfuh flange type spiral chute welding precision is high and standardized, which ensures that the blades operate at the designed angle and the goods slide smoothly.
Its core technologies include the following aspects:
1. Flanged spiral chute provides the safest and most reliable method for the downward transfer of goods, and the specially designed spiral trajectory helps to control the sliding speed of the cargoes.
2. The standardized design of chute structure can satisfy cargoes of different shapes, weights and dynamic coefficient of friction. It can achieve universal interchange and improve the efficiency of design and manufacturing.
3. Flanged production, can be disassembled into a piece of independent modules, we call it "blade". "Blade" occupies a small volume and light weight in the process of transportation. It does not need special equipment for handling and installation. It also saves labor costs and reduces design, manufacturing and installation errors.
4. Molding production improves the production accuracy of flanged spiral chutes, reduces welding time, prevents welding deformation and ensures uniform welds. It overcomes the drawbacks of single-piece production and forms efficient specialized production.Molding production also reduces the rejection rate and makes the product standard and beautiful, and its welding accuracy meets the design size requirements.
5. It has the characteristics of no power delivery, energy saving and environmental protection an low maintenance costs.
03
Small size, long service life, low cost
Houngfuh spiral chutes have really too many advantages
1. Small space occupation, no flow limit for downward conveying;
2. High efficiency, energy saving and environmental protection, no energy consumption;
3. Long service life and low investment costs;
4. Mature technology, there are many cases in various industries at home and abroad;
5. Low costs in transportation, installation and maintenance.
04
Meet the individual needs of different industries
Modular design makes installation more easy
The overall structure of the flanged spiral chute in the logistics system is designed according to the weight, size, shape, initial speed, inlet and outlet direction, sliding speed and sliding height of goods.Chute systems can be customized to meet customer needs.At present, the section width of Houngfuh flange spiral chute equipment covers: 600, 800, 1000, 1100, 1200, 1260, 1300, 1410mm and etc..These specifications can basically meet the logistics needs of different industries.
Houngfuh's spiral chute adopts flange type assembly, sleeve type installation, bolted connection between blades, making it easy to disassemble and saves transportation costs. It is an ideal choice for export.The modular design enables the parts universal interchange between different types. It is more convenient during the assembly.